No one left behind: the Cystic Fibrosis Trust's commitment to 'the 10%'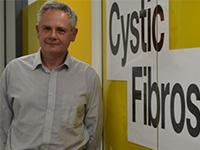 Last week saw the announcement that Vertex Pharmaceuticals has signed a deal with the NHS to open the door for access to Kaftrio, the groundbreaking 'triple therapy combination' medication. This follows access to other Vertex medicines – Kalydeco, Orkambi and Symkevi – over the past few years. All of these medications, known as modulator therapies, target the specific genetic defect that causes CF, which means they only work for certain genetic mutations.
Around 90% of the UK CF population have mutations that will ultimately be eligible for these drugs. So, NHS funding for Kaftrio means that the majority of people with CF in the UK will soon have access to highly effective new treatments. Those under 12 years old, who are currently not covered by the EMA marketing authorisation for Kaftrio, are likely to gain access in the not too distant future and we will continue to support this process.
However, 90% is not everybody, and we are very aware of the 10% of the UK CF population who have genetic mutations that are not eligible for any of these new treatments. For this group, and their family and friends, there will be mixed emotions. While we all, as a community, can celebrate such a significant step forward in cystic fibrosis, many people with CF and families in 'the 10%' have shared their fears about being 'left behind'. We know there's a real concern about the continued investment in research and care for a smaller group of people.
Ensuring that no one with CF is left behind
As we move forward in a changing world of cystic fibrosis, we want to reassure the CF community that ensuring no one is left behind as CF care and treatment develop will continue to be a key focus for the Cystic Fibrosis Trust. We recognised this in our latest research strategy published in 2018 and this has been important in guiding our work in recent years.
Everyone with CF is different and the group of people who won't benefit from the new modulator therapies is varied – it includes some of those with CF who don't have a F508Del mutation, some with very rare mutations, a small number of individuals who cannot tolerate modulator therapy and post-lung transplant patients (modulators are not currently recommended for people post-transplant). The UK CF Registry collects data on almost everyone with CF in the UK, and in the months ahead we will be using this data to help us understand more about the people in this group and their CF health. This deeper understanding will then support us across our work in advocating for the research, care, treatment and support needed.
Driving forward improvements in care
At the Trust, we are optimistic that improvements in traditional treatment will continue to result in improved quality of life and life expectancy for all people with cystic fibrosis. Working in partnership with commissioners and CF centres, we continue to drive forward these improvements in care.
A key example of this sort of development is continuous glucose monitoring (CGM) for CF-related diabetes. Our initial funding to establish the evidence base for this via a CF centre then supported policy work to ensure widespread access to CGM devices for people with CF on the NHS, reducing the burden of diabetes treatment.
A balanced research portfolio
Since 2013, our aim in funding research has been to maintain a balanced portfolio of research studies. This means investing in research to improve the symptoms of CF at the same time as investing to develop treatments for the underlying cause of cystic fibrosis. The approval of Kaftrio and the other CFTR modulators demonstrates the strength of this approach.
Our focus has always been on research that benefits everyone with CF, irrespective of their genotype. Areas we're funding include gene editing approaches for correcting the CFTR gene and non-CFTR-targeted therapies as well as funding research to develop new antibiotics and tackle antimicrobial resistance. Progress in this area will continue to benefit everyone with cystic fibrosis.
Our Clinical Trials Accelerator Programme is particularly important in this changing landscape of CF treatment. Ensuring continued participation in clinical trials, particularly where a trial may be targeting a small number of people in the CF community, will be vital. Our online Trials Tracker enables people with CF to search for clinical trials that are open to them.
We're really optimistic about the number of drugs in the pipeline that will result in new and improved treatments for everyone with CF in the future. Work continues on the Netherlands based HIT-CF study, which seeks to trial modulator therapies for people with rare combinations of mutations. Recruitment across Europe is complete, with 51 UK participants recruited through our Clinical Trials Accelerator Platform taking part. The second phase of this study is due to complete in 2021.
Providing practical support
In providing information and support to the CF community, we have a guiding principle of targeting our services and resources where help is most needed, and we will of course continue to be on-hand to provide tangible, practical support. Over the coming months we will be working to understand more about the current and future day-to-day support needs of people with CF who won't benefit from modulator therapies. We'll also be supporting those who will benefit, as they adapt to any health changes the new drugs bring for them.
Above all we want to reassure you that no one will be forgotten or left behind. We will always focus our resources to help those who need us the most, and we will always be here for everyone with CF. The cystic fibrosis community is a powerful thing – a unique combination of people with CF and their families and friends, dedicated researchers and expert clinical professionals, and the committed staff at the Trust. Together, we will not stop until everyone with CF lives a life unlimited by the condition.
We know that this is a difficult time for some people in the CF community. If you have any questions or would like to know about the support we can offer, our Helpline is available 0300 373 1000.