Five surprising things I've learned while manning a charity helpline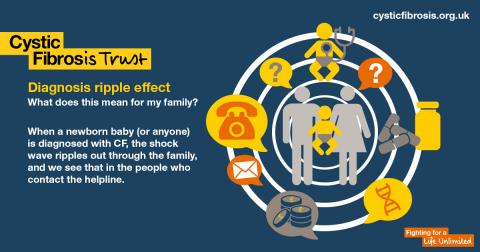 1. The ripple effect
A new diagnosis of cystic fibrosis affects the whole family. It's a complex genetic condition that affects not just the lungs, but the digestive system and other parts of the body too. Through the helpline, I hear all kinds of reactions, from people who immediately galvanise themselves for fundraising or want to immerse themselves in reading about the condition, to others taking it one day at a time and trying not to overload themselves with information. 
Grandparents often ask "was I the one carrying the cystic fibrosis gene – should I have known?", while aunts and uncles may ask for help understanding the genetics and what it means for their family. We have the resources and support they need, and time to listen to their worries and fears. I can put them in touch with other relatives through our CF Connect scheme, and always signpost grandparents to our video of the wonderful Anne, who shared her experience of her grandson's diagnosis with us.
2. You may worry about calling (there's no need!)
Everyone apologises to us – "sorry, I know you're busy", "I'm just ranting now", "I'm afraid I might cry" – it's okay! We're never too busy and sometimes you need to rant or cry, especially to someone you don't have to worry about upsetting! I'll let you in on a secret: sometimes, we get as cross as you do about the situation your family and thousands of others across the country are facing. We're here for you – and there's no such thing as a 'silly question'.
3. It's more personal than you think
People often expect their call or email to be answered by someone in a call centre, but we're a small team. We each try to keep up with all of the emails we received, and usually know most of the calls too – we're likely to remember you and what you called about. We're completely confidential, so we won't share the details of the calls outside of the team. 
We try to answer every enquiry within three days, with an out-of-hours answering and email service. Sometimes, if it's a really complex enquiry, it may take a little longer for us to find the answer – for example a complicated query about access to education support – but we'll always let you know that we're on the case!
4. We'd love to know what happens next
We rarely hear what happens after we've dealt with an enquiry. We may be busy, but we're a small team and we remember individuals; we'd love to hear how the community is getting on. We don't forget about our callers a few weeks or months after we've signed off an email or put down the phone, and feedback could help us provide a better service for the next person who calls us needing support. Let us know how you get on; it'll help me sleep easier at night, and could help us to support more people in future.
5. Every enquiry is as unique as the individual sending it
Everyone is unique, so there are no 'copy and paste' responses from me or the team! It's our job to make sure you get the right information and support at the right time – and we'll do our best to make sure this happens with every call. Whether you want a detailed answer with links to research papers or just some friendly reassurance, I try to listen carefully to understand what I'm being asked for and provide a personal answer each time.
If you want to get in touch with the helpline, you can do so by calling 0300 373 1000 or 020 3795 2184, or by emailing helpline@cysticfibrosis.org.uk.
I have worked on the helpline for 18 months, and I'm still learning something new every day - no two calls or emails are the same! Some popular queries include "where can I get a fair price on travel insurance?", "how can I make sure my child is supported at school?" or "how do I explain CF to my employer?" - there is no question too big, small or unusual! If you'd like to call us about any of these topics, or anything else at all - even just a chat - we'd love to hear from you!

Becky Kilgariff
Here to help
Find out how to contact our wonderful helpline staff by telephone and email. They're here Monday to Friday to answer your questions, help you access support or just to have a chat.
Factsheets
Want to find out more about cystic fibrosis? We have collaborated with clinical experts to prepare factsheets on many aspects of the condition.
Life Unlimited
Find out about our mission to create a brighter future where everyone with cystic fibrosis can live long and healthy lives, unlimited by the condition.