"It is my hope that in my career and lifetime I will be able to witness all people with CF being able to live a life unlimited": CF researcher Alice Collins' CF Week story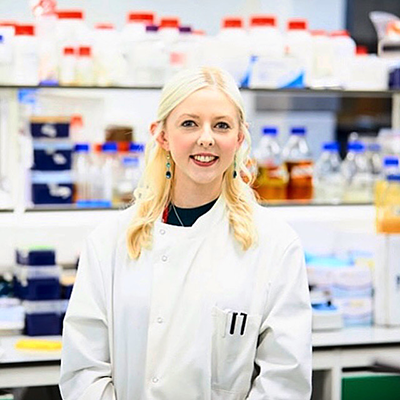 Alice is 25 and from South Wales and she is currently in the final year of her PhD at Imperial College in London where she's located within the National Heart and Lung Institute (NHLI). Alice is an NHLI-funded PhD student housed within our Strategic Research Centre: Personalised approach to Pseudomonas aeruginosa (PAPA), which investigates better ways to detect ​Pseudomonas aeruginosa, understanding how it settles in the lungs and developing more effective drugs for treating it. For Alice, there is a very personal inspiration behind her vital work: her older brother has cystic fibrosis. 
My brother was born in 1980, a time when the CF gene hadn't yet been identified. As a child, he displayed classic symptoms of cystic fibrosis - particularly respiratory and gastrointestinal - but the GP and doctors couldn't identify the cause. It wasn't until a doctor at Northampton General Hospital, who had had some experience with cystic fibrosis, referred him to Great Ormond Street Hospital in London. 
At 7-years-old, my brother was diagnosed with cystic fibrosis. This was life-altering for the entire family – my brother didn't quite understand what was going on as he was so young, but he remembers finding the life changes, such as IV treatments and medication regimes to be incredibly frightening at the time.  
Although he was pretty fortunate and maintained relatively good health throughout his life, he was quite unwell from his teens into his 20s; he had a portacath device implanted at 16 to help with IV treatments. In addition to the physical aspect of CF, he struggled mentally, especially finding it hard to accept his mortality at such a young age and that he could never live a normal life. My brother was told he probably wouldn't live to see 20, which was even more common at the time than it is now with the advancements in treatments in recent years.  
He did struggle with bullying at school, mainly in sports classes and at lunchtime for taking Creon to help him digest his food. Despite all of this, he went on to university and has a successful career as a secondary school teacher, maintaining a full-time job alongside his treatments. He was even healthy enough in 2010, at the age of 29, to have his portacath taken out.  
Life-changing news 
In September 2020, at the age of 40, my brother received the life-changing news that he was eligible for Kaftrio. He received his first package of Kaftrio on 31 December 2020 – the timing was wonderful as we were all sat around the dinner table on New Year's Eve as he took his first tablet. It was such an incredible and emotional evening. There has been astounding advancements in CF research and treatments in recent years, but with my brother's age we weren't sure whether we'd see him receive this type of treatment in his lifetime.  
As a scientist you get to marvel at the way the world works every day, but to see that in action with these modulator therapies for a person you love was a life changing moment that I will never forget. 

Alice
Our family will be forever thankful to the Trust, NHS and the incredible researchers who have made this possible and changed his life forever.  
Growing up with a sibling with CF 
There's a 16-year age gap between my brother and I, so I was constantly aware of his CF, treatments and respiratory infections. Our parents explained everything to me from a very young age and answered all of the questions I had about his health - they didn't keep anything from me. 
From the age of 3, I knew I wanted to be a scientist. Throughout my childhood and teenage years, I skipped around the idea of having a career in different areas of biology. Once I fully understood the gravity of CF, it became my hope that one day when I had a career of my own that somehow, I would make a difference to the lives of not only my brother, but everyone living with CF.   
My research career so far 
I studied microbiology at university and knew I'd want to continue on to a PhD from the offset. I've always found CF microbiology fascinating, and in my final year of my undergraduate degree, Prof. Eshwar Mahenthiralingam offered me a place in his lab for my Master of Research degree. The project with Esh was incredible and made me so excited for a career in CF research. 
In February 2019, I saw an advert for the PhD with Prof. Jane Davies and Dr Luke Allsopp at Imperial College London – my dream PhD. In some ways I still can't believe I was picked for the position, and I feel incredibly fortunate to have been given this opportunity.  
So now I am currently in the process of getting my PhD, which means I'm still in the learning phase of my research career. I work in a lab as a microbiologist, studying the bacteria that causes chronic long-term respiratory infections associated with CF. I am trying to figure out the process of how these chronic infections form. 
My research focuses on the bacteria Pseudomonas aeruginosa which is the most common cause of chronic respiratory infections associated with CF patients, particularly those in their teenage and adult years. As many people in the community know, chronic Pseudomonas infection results in a decline in lung function, but it also causes a reduction in the diversity of all the bacteria found in the lungs and becomes dominant in that environment. For my PhD I am investigating whether Pseudomonas directly competes with other bacteria in the CF lungs which could result in the dominance and decline in bacterial diversity we see that is associated with a patient's reduced lung function. 
It's really important to figure out the process of how Pseudomonas dominates CF lungs so that we can better understand how these infections work, to treat them as efficiently as possible. Understanding these systems could provide us with new targets for therapies which could have an impact on how we tackle the rise in antimicrobial resistance. 
As I work on Pseudomonas aeruginosa which is the bacteria that he has, he finds it incredibly humbling that I not only chose to work in CF but specialise in studying this bacteria because it's not only so significant to the CF community but to his life in particular.

Alice
My brother is incredibly proud of me 
He has told me that he finds it very emotional that I chose my career in the field of CF research because it mattered to me that much.  
He's said that having doctors recognise and talk to me about my research whilst he's been with me has been incredible and has made him so proud of me.  He also really appreciates being able to sit down with me and ask me questions about his condition, and have his questions explained in more depth.  
As I work on Pseudomonas aeruginosa which is the bacteria that he has, he finds it incredibly humbling that I not only chose to work in CF but specialise in studying this bacteria because it's not only so significant to the CF community but to his life in particular. He feels that in a way what I am doing is more emotional and significant to him than receiving his Kaftrio treatment, which is incredibly special to know, and I am truly honoured that he feels that way.   
Looking to the future 
It is my hope that in my career and lifetime I will be able to witness all people with CF being able to live a life unlimited through the amazing ongoing research and medical treatments.  
Cystic Fibrosis Trust to me, means hope. Without it we wouldn't have had the funding to conduct the research that has changed so many people's lives, not only for people with CF, but their loved ones too. The Trust always gave me hope that one day, through research, the lives of those with CF and especially my brother, would be changed for the better forever. For my family, the hope turned into reality with the start of his Kaftrio treatment. But that isn't the case for every family like mine, as not everyone can benefit from Kaftrio.
I have hope that in the future, with the incredible advancements in the field of medical science, everyone in the CF community will truly be able to live a life unlimited.  
---
Cystic fibrosis (CF) is a genetic condition which causes sticky mucus to build up in the lungs and digestive system. It affects more than 10,800 people in the UK. One in 25 of us carries the faulty gene that causes it, usually without knowing. 
Since 1964, we've supported people with cystic fibrosis to live longer, healthier lives - and we won't stop until everyone can live without limits imposed by CF. 
Through ground-breaking research discoveries, we won't stop #liftingthelimits so everyone with CF can access the treatments they need.
Join us as we unite for a life unlimited this #CFWeek.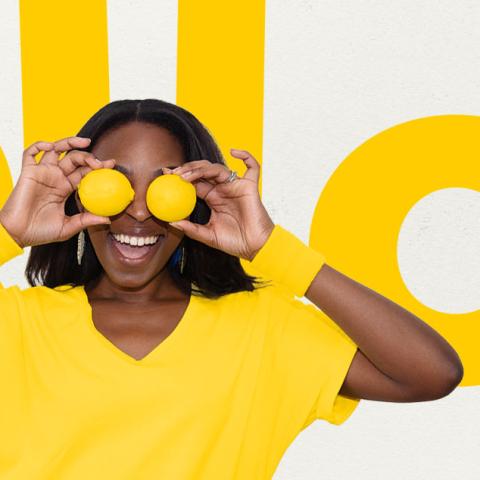 Wear Yellow Day
Unite with us on Friday 17 June, Wear Yellow and raise money to help create a brighter future for people living with cystic fibrosis. Dress up, bake or take on a physical challenge, but whatever you do… do it in yellow!