Reporting and resources
Cystic fibrosis (CF) care teams enter data to the UK CF Registry at every specialist centre and clinic across the UK, with over 99% of people with CF consenting to their data being submitted.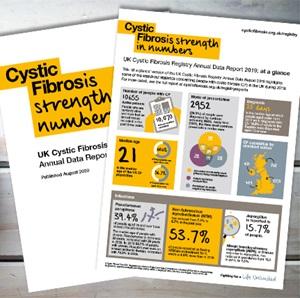 Registry results are published each year in the annual report. Detailed and at-a-glance versions of the report are produced, both designed to be accessible to people with cystic fibrosis and their families, as well as their healthcare teams. The detailed report includes data about individual cystic fibrosis centres, to help the centres benchmark themselves against their peers, and provide people with cystic fibrosis information that applies to their specific care team.
Read the 2022 Registry annual data report
The UK CF Registry annual data report for 2022 is available to download here. The 2022 at-a-glance report, which provides a summary of the key points, is available here.
Please note that some of the graphs and tables that use 2020 registry data (eg 1.19 and 1.20) in the full report are are undergoing some amendments and will be updated shortly.
Registry reports
Read all of the UK CF Registry's annual reports, at-a-glance reports and Scotland reports from 2004 onwards.
2021
2020
2019
2018
2017
2016
2015
2014
2013
2012
2011 
2010
2009
2008
2007
2004
COVID-19 in people with CF
The UK CF Registry is monitoring cases of COVID-19 in people with cystic fibrosis. Take a look at the current UK statistics for people with CF affected by COVID-19. We will update this information weekly to add new cases reported to the Registry. 
Distribution of CF in the UK
Take a look at our interactive map, detailing the distribution of people with cystic fibrosis across the UK.
Registry survey
In early 2015, we asked people with CF and their parents about plans for future development of the UK CF Registry, to makes sure that it meets their needs as well as those of heathcare teams, researchers and the wider NHS. Thank you to everyone who took part, helping us shape the future of the Registry. Take a look at the full survey, or the at-a-glance report to find out more.
Genotype data by nation and age
The following has been published as a result of a data request submitted to the UK CF Registry. The request, by the Cystic Fibrosis Trust, described populations potentially eligible for therapies ivacaftor (Kalydeco) lumacaftor-ivacaftor (Orkambi), tezacaftor-ivacaftor (Symkevi), the Vertex triple therapies (tezacaftor-ivacaftor-VX659/VX445), and the population with heterozygous F508del.
For more information about genotypes across the UK, please see the UK Cystic Fibrosis Registry Annual Data Report 2018.
Genotype data by nation and age (PDF 189 KB)*
*Taken from the UK Cystic Fibrosis Registry 2018 verified dataset.
PbR tariff bandings for people with cystic fibrosis in England
Since April 2013 Specialist Commissioners of cystic fibrosis care in England have made mandatory tariff payments to CF centres based on something called the 'year of care tariff'. The tariff uses UK CF Registry data to categorise the severity of a person's CF disease. The tariff only covers CF-related care at hospitals in England. For example, it does not include A&E visits, or admissions for trauma. It also excludes charged for high-cost CF drugs such as DNase, nebulised antibiotics and ivacaftor (Kalydeco).
You can view the NHS Payment by Results guidance here.
In 2022, the proportion of patients in England falling into each of the seven bandings was as follows:
Adult sites
Band 1: 8%
Band 1A: 1%
Band 2: 13%
Band 2A: 37%
Band 3: 33%
Band 4: 6%
Band 5: 1%
Paediatric sites 
Band 1: 22%
Band 1A: 4%
Band 2: 32%
Band 2A: 22%
Band 3: 18%
Band 4: 2%
Band 5: 0%
FAQs
Public awareness of cystic fibrosis is low; here's your chance to find out the answers to the most commonly asked questions and discover further resources.
In the news
Check out the latest news about cystic fibrosis, from new developments in research to nationwide campaigns, including local, national and international stories.
Clinical Trials Accelerator Platform
Find out how we're increasing access to clinical trials for people with CF across the UK.